Lemon Grove Cafe

Lemon Grove Cafe is a family friendly cafe offering a complete experience and a full range of breakfast, lunch, gourment sandwiches and desserts. We are child and baby friendly and our menu has something for all the family. Our latest selection of homemade cakes are sure to tempt your taste buds. Why not enjoy slice with a cup of our freshly grounded coffee or choose from our range of organic teas.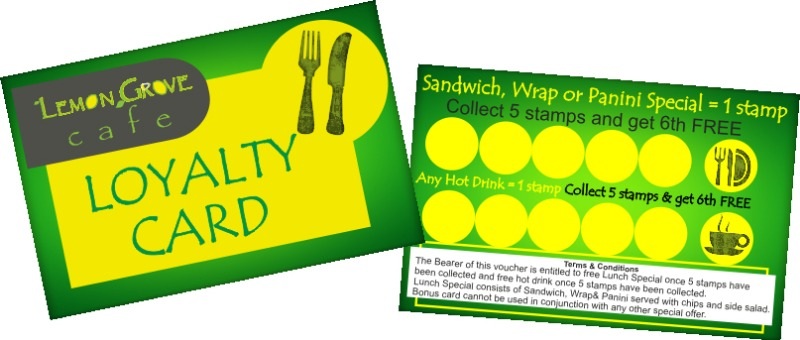 LOYALTY CARD
Lemon Grove Cafe offers fresh and delicious food at a reasonable price and just another way of saying a Big thanks for making our Cafe your regular choice we have introduced a loyalty card system.
Collect 5 stamps for lunch and get 6th FREE
Collect 5 stamps for hot drinks and get 6th FREE

HOMEBAKED CAKES
Choose from a great daily selection of divine cakes and desserts in our Cafe. You can also purchase many of them as take home treats.
2 lb loaf of FARMHOUSE FRUIT CAKE round 9" CHOCOLATE CAKE

2 lb loaf of GINGER CAKE round 9" CARROT CAKE

2 lb loaf of BANANA BREAD round 9" TOFFEE CAKE

2 lb loaf of TOFFEE CAKE round 9" LEMON DRIZZLE CAKE

2 lb loaf of CARROT CAKE round 9" RASPBERRY CAKE

2 lb CHOCOLATE BISCUIT CAKE round 9" COCONUT CAKE ( gluten free )
TO ORDER CALL 053 91 58408